In een opiniestuk in De Morgen pleit Rik Vereecken voor een slim energiebeleid:
"Ik ben net als minister Tommelein voorstander van de slimme meter, maar dan wel in het kader van een coherent energiebeleid.
De slimme meter is, anders dan zijn naam doet vermoeden, helemaal niet slim. Het is een meetinstrument dat bijhoudt hoeveel energie je verbruikt en op regelmatige tijdstippen de meterstanden automatisch naar je netbeheerder stuurt. Zelf je verbruik monitoren of energie besparen kan alleen als je de digitale meter combineert met extra apps of software, en dus extra kosten, die je inzicht geven in je verbruik.
Het debat over de slimme meter leidt de aandacht af van waar het werkelijk om gaat: de visie op een slim elektriciteitsnet en -productie, kortom een echt energiebeleid. De digitale meter is het eindpunt van een slim net, niet het begin.
In Nederland hebben ze de digitale meters al voor een groot deel uitgerold en ondervinden ze dat de meters zonder aanvullende investeringen in slimme netten nauwelijks zinvol zijn. Het zou jammer zijn om de geleerde lessen uit het buitenland zomaar naast ons neer te leggen.
Toekomstgerichte visie
We hebben nood aan een stabiel investeringsklimaat waarbij klassieke en vooral hernieuwbare (decentrale) energie een belangrijke rol spelen in het balanceren van het net en het betaalbaar houden van onze energiekosten. Met spelregels die niet om de haverklap veranderen.
Een nieuwe, toekomstgerichte visie dringt zich op. Waarom mag een woonwijk geen eigen klein elektriciteitsnetwerk (microgrid) hebben? Met bijvoorbeeld brandstofcellen en zonnepanelen kun je een wijk voor 80 procent van energie voorzien met slechts één aansluiting. Lokaal opgewekte energie die lokaal wordt verbruikt: efficiënter kan niet. Dit is technisch perfect mogelijk, maar wettelijk niet toegelaten.
Wie kan er besparen? De distributienetbeheerder, de energieleverancier en de consument. In die volgorde. De distributienetbeheerder bespaart door automatische meteropname, het activeren van budgetmeters, fraudedetectie. De energieleverancier kan beter voorspellen wat de energiebehoefte zal zijn en dus zijn productie aanpassen.
De consument betaalt eerst de kosten van de uitrol, daarna de extra software én hij moet zijn verbruikspatroon aanpassen. Omdat slechts een derde van de energiefactuur naar de energieprijs gaat (de rest naar nettarieven, REG-premies en heffingen) blijft de effectieve besparing beperkt. Bovendien wordt de uitrol gespreid over liefst vijftien jaar. De voordelen worden dus pas veel later realiteit.
Het capaciteitstarief komt eraan, dit is een vast bedrag per jaar dat je betaalt voor het gebruik van het distributienet. Het bedrag is afhankelijk van je aansluiting, wat vooral nadelig is voor groene gebruikers van warmtepompen en elektrische wagens.
Mijn aanbevelingen:
Span de kar niet voor het paard. Investeer (eerst) in een slim net.
Creëer een draagvlak en informeer de consument. Stel een eenvoudige app ter beschikking waarbij gezinnen inzicht krijgen in hun verbruikspatroon.
Reken de kosten van de meter niet door aan de consument.
Hervorm de oude distributiestructuren. Het is niet de technologie die een slim net tegenhoudt, wel de regelgeving.
Leer van de gemaakt fouten uit het buitenland.
Niemand ontkent dat 'slimme' meters een belangrijke stap zijn op weg naar duurzame elektriciteitsvoorziening. Maar dan wel binnen een slim energiebeleid waarbij iedere belanghebbende wint, ook – en vooral – de consument."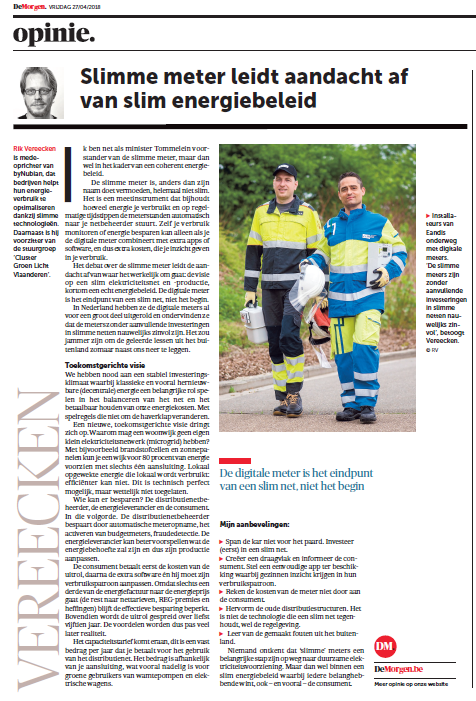 http://www.bynubian.com/wp-content/uploads/2016/01/logoSmall.png
0
0
laurent
http://www.bynubian.com/wp-content/uploads/2016/01/logoSmall.png
laurent
2018-04-27 09:01:31
2018-04-27 09:03:25
Opinie: Slimme meter leidt aandacht af van slim energiebeleid