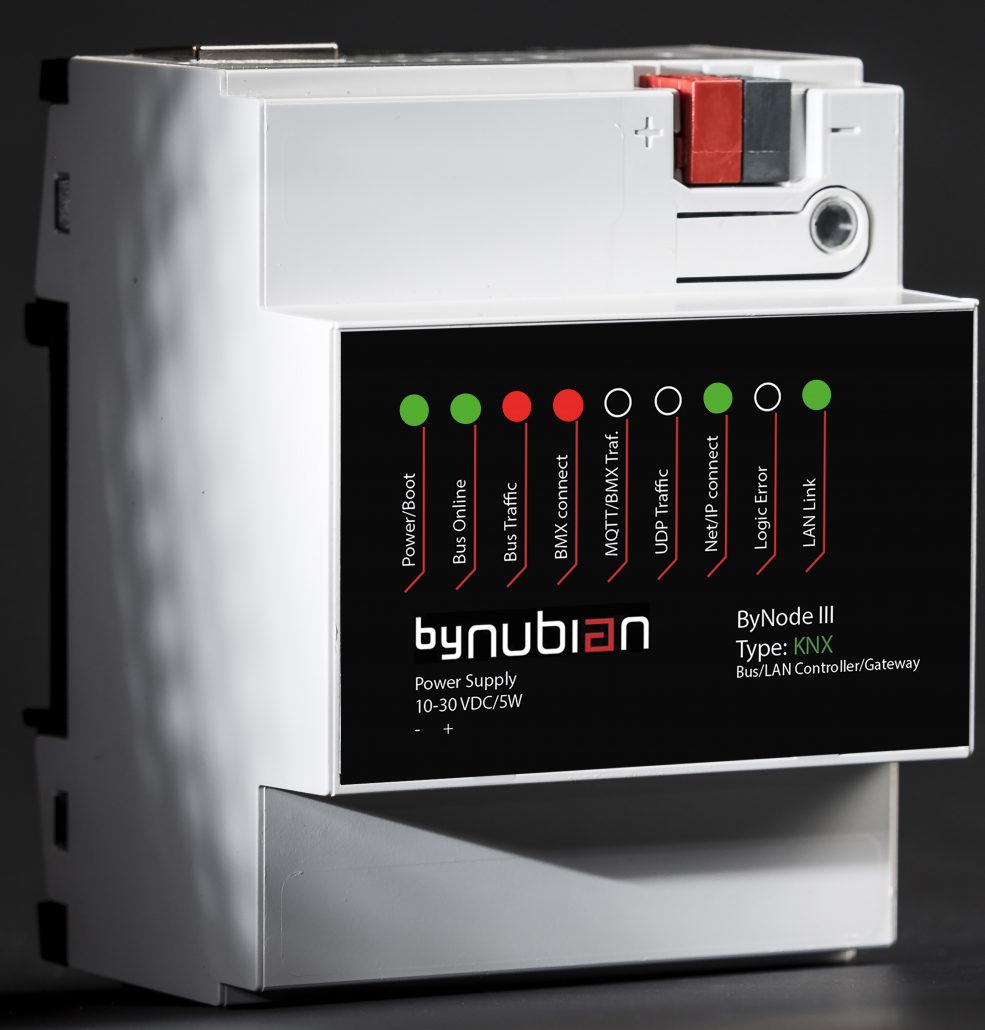 Secure gateway between your data and the cloud
The byNode is a powerful, multifunctional module, which takes care of the communication between a KNX/BMS, M-bus, ModBus or BACNET network and the cloud, using secure (SSL) MQTT messages over IP.
The byNode is compatible with the KNXNode III and is also a performant data logger.
By adding a LoRaWan byNode you can connect to the cloud via a LoRaWan network.
In combination with the byNeuron cloud platform it monitors your data, enabling easier installation and data management.
Intended Use
Interconnection of KNX/M-bus/ModBus/BACNET networks with the byNeuron cloud services (subscription required).
Use as a logical building block and clock.
Use as line/area coupler and/or data interface.
Can optionally also be used as a gateway for the visualization software KNXVision.
Product Features
Table with status of all group addresses for visualization and communication.
Coupling with the byNeuron cloud servers over TCP port.
Buffer memory in case of loss of connection with the Internet.
KNXnet/IP interface for (ETS) programming via the IP network.
BMX routing for communication between KNX lines, ranges and IP worlds, number of programmable logic functions.
Supported logical functions:
Binary logic (up to 31 inputs per logic gate)
Time delay, staircase, weekly clock, year clock
Gate (bidirectional) scene, sequence
Hysteresis, transformer, comparator, multiplexer
Binary filter, cyclic repeater, value memory
Mathematical functions: addition/subtraction/multiplication/division/mini – and maximum
TCP/UDP messages
Filter table
Status buscouplers in zones/lines
Programming, servicing and total simulation via KNXClient and KNXVision Studio
Technical Specifications
Power supply: 10-30VDC (M-bus also 230VAC version)
Power consumption: max 5VA
Connections:
KNX: via bus terminal
Ethernet: RJ45 – 100Mbit
Power supply: via plug-in screw
Status LEDS:
Power/boat

Bus online

Bus communication

BMX Connect

BMX/MQTT communication

UDP communication

KNX Net/IP connection

Logical error

LAN link
Environment temperature: 0-30°C
Storage temperature: -10 +70°C
Relative humidity (non-condensing): 5-80%
For mounting on DIN rail according to FN 50022-35 x 7,5
Mounting width: 4 modules (M-bus 6 modules)
byNode LoRaWan
Connect your existing building network directly to the cloud via LoRaWan with the byNode LoRaWan.
More information about our LoRaWan sensors here.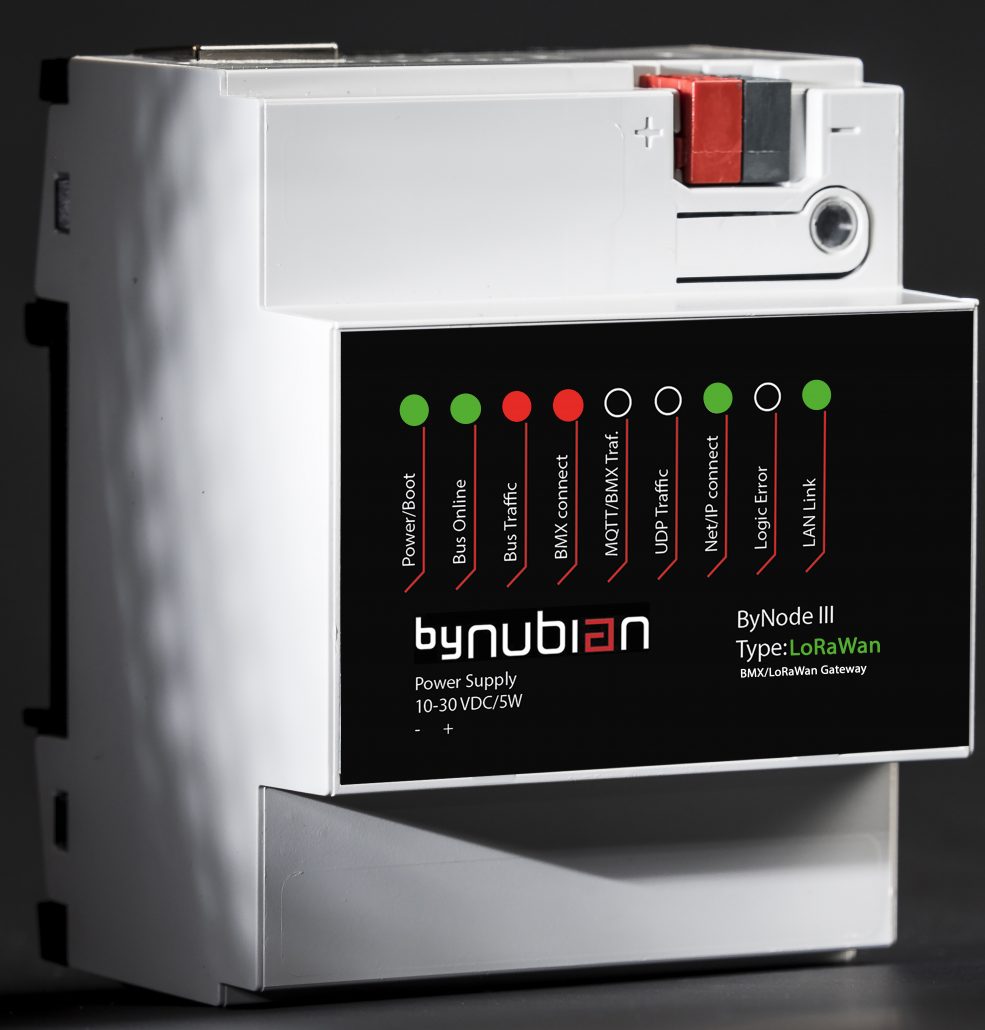 byNode M-Bus/Modbus TCP/IP
The M-Bus gateway connects M-Bus meters directly to the byNeuron-cloudplatform and to other Nodes, f.e. KNXNode.It uses the existing LAN Network and uploads data from different meters (electricity, heat, water, gaz and temperature) directly to the byNeuron cloudplatform.
Easy setup in just a few minutes.
Product features:
M-Bus master gateway to byNeuron-cloud and KNXNode, byNode type BACnet, …
Operating voltage: 230VAC or 24VDC, following type
Integrated level converter for up to 10 M-Bus devices (type 230VAC) or 20 M-Bus devices (external 24VDC)
Supports all M-Bus meters according EN13757-2,3 (former EN1434-3)
Direct (secured) connection to the byNeuron-cloud
Discovery mode devices for easy configuration with PC or tablet, free client software
Integrated datalogger for 10.000 telegrams
Automatic synchronization after connection failure
Modbus TCP/IP ready