Thinking of building your own IoT platform? Think twice!
Building a performant IoT platform requires a mix of functionality and skills in the domains of security, infrastructure, big-data and analytics.
byNeuron is the IoT platform to connect, control and store the state of your things. Using the byNeuron IoT platform configured to your needs, you can focus on your business case and getting ahead of your competition.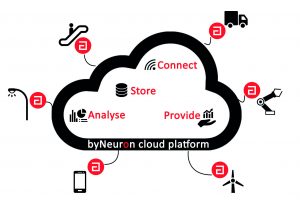 Secured using SSL, JWT…
REST, FTP
MQTT
Field gateways for KNX, ModBUS, MBus, BACNet
STORE
scalable to billions
Any type of master- or reference data
Events to capture changes of numbers, positions, tekst…
ANALYSE
Configurable rules engine or custom machine learning algorithms
Filter or tag incoming data
Define actions
PROVIDE
Monitoring
Custom time series
Alerts